Great Range Traverse Attempt (And Then Some)
1/14-17, 2020


Been wanting to try out a winter Great Range Traverse for some time now. It hardly sees any traffic in the winter and I've only been able to find two trip reports on it so far, one from Kris Walker and another from Iain Ridgway, each in different conditions. Expecting a slower push in the middle of winter with camping expected in foul conditions, my pack weighed in around 52lbs+. I alloted myself 4 days to complete my attempt before the start of the Adirondacks Mountainfest but had to switch up the itinerary in order to make it back in time to link up with the AAC NYC chapter's Icehaus gathering. I was short of my goal in climbing Haystack and Marcy but did manage to add on a detour over to see Sawteeth. From the mountain-forecast reports leading up to the trip, the range of temperature shuffled between 30º to -20ºF.

DAY 0
Picked up rental car in the evening from JFK around 8p. Drove up to Taconic Hereford multiple use area and slept in the car in the parking lot around 11p.

DAY 1


Started from Rooster Comb parking lot around 6p. Noonmark diner for breakfast. Camped at col between Lower and Upper Wolfjaw. Added icicles to water bottle and melted it for water. Hadn't come across any running streams.

DAY 2
Crampons all day. I started around 7a and ended around 2:30a. All that to cover a measly 8.8mi. Today was a long day of climbing up and down ice grades with exposure, sometimes feeling like a WI2-. Really wished I had my ice tools or ice pro. Much has been written about the scary, steep descent down the Gothics but I reached it at night and I suppose being unable to gauge distance in the dark helps. My crampon did slip on rock at one point on Basin and I dropped my ice axe which slid down a few hundred feet. I carefully crawled backwards to recover it. Having reflective tape on it helped me spot it easily.

Abandoned attempt to reach Panther Gorge lean-to and headed to Slant Rock lean-to instead. Bricked phone at night because I left it outside of the bivy. By the end of the day's attempt, snow accumulation was around 14-16".


(A lot of sections like this. This was around Armstrong. Not sure how doable this would have been without frontpoints on my crampons. Reminder to self - don't carry foam pad that low. It restricts movement.)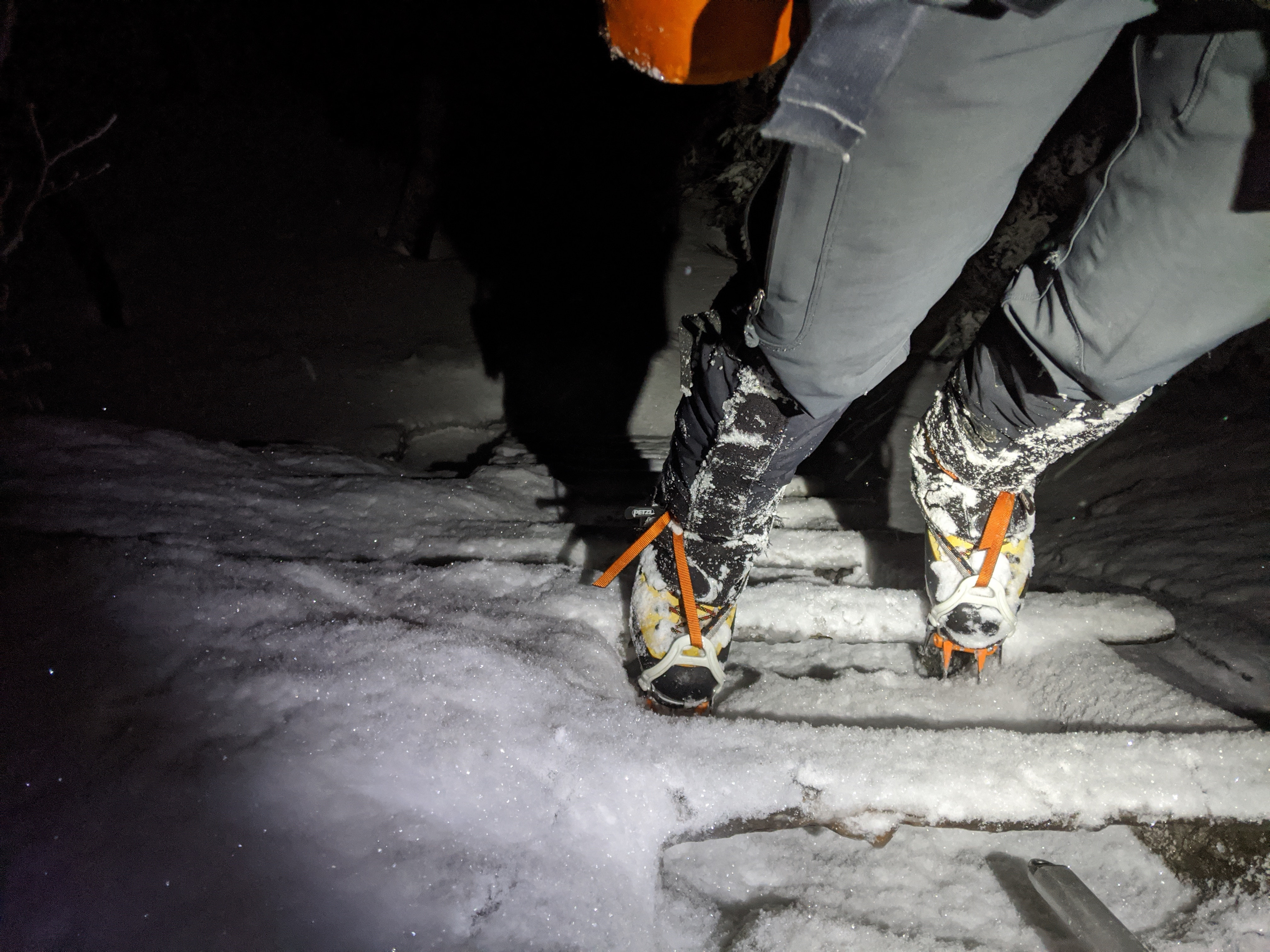 DAY 3
Slackpack day. Snowshoe into crampons back into snowshoes. Drifts sometimes waist deep. Hid behind a rock on Little Haystack staring at a barely visible Haystack as clouds whipped by. First time crawling on all fours and abandoned attempt at tagging Haystack. Wind so strong that my hardshell fabric didn't flap - it vibrated. Unable to stand and unsafe to continue. Returned to camp and pushed down to Bushnell Falls lean-to #2. Coldest bivy ever.. -22ºF?!


DAY 4
Snowshoes conditions. Passed by maybe 12 other people? First human contact in more than 3 days! Noonmark Diner as reward around 1pm.


---

Type 2 miles and misadventures


---

© 2020 Conan Thai Photography